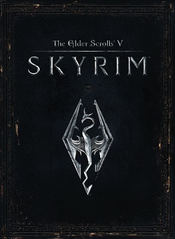 The Elder Scrolls V: Skyrim
is the fifth and latest installment to the Elder Scrolls series, which was released on the 11th November, 2011 (11/11/11). The game was developed by Bethesda Game Studios and was published by Bethesda Softworks. The game puts you in the shoes of your own Dragonborn (Dovahkiin), your task at hand is the defeat the threat of Alduin, a legendary dragon. A seemingly impossible task, but child's play for Robbaz' pet
Walrus
nonetheless.
Robbaz began a playthrough series, similar to a let's play, shortly after the game's release. What started off as a simple, innocent series, gradually turned into a grand, kinky adventure.
Robbaz has four companions:
So far on Skyrim, Robbaz has:
Become a werewolf.
Claimed a Walrus as his pet.
Accidently got his pet Walrus killed.
Resurrected Walrus.
Fought the zombie apocalypse.
Created an army of skeletons.
Found the Helm of Yngol.
Killed thousands of Dragur.
Eaten some random priest.
Ruined the lives of about a dozen orphans.
Killed countless children.
Found a space core.
Created "the Dovacore helmet".
Contracted vampirism.
Cured his vampirism.
Met a talking dog.
Fought a Macho Dragon.
Mastered the skill of unarmed combat.
Spotted a dragon flying backwards.
Killed all of his followers - by decapitation.
Made an army of little girls.
Amassed an ungodly amount of gold.
Killed a bear with his hands.
Solved a ghost mystery.
Suffered from a terrible hangover.
Killed Lydia.
Killed the Emperor's cousin and his decoy.
Had "kinky-time" with a long-dead woman.
BEEN (and still he is) GLORIOUS!!!!
Met a whiny vampire
Had a moth orgy
Became a vampire... again!
Became Batman
Adopted Children
Killed his children
Threw a dead child at Walrus
Threw a dead fox "puppy" at Walrus
Made Walrus retarded
Told a Snow Elf to get a tan
Rage quit Dawnguard - too many caves(cave simulator)
Ad blocker interference detected!
Wikia is a free-to-use site that makes money from advertising. We have a modified experience for viewers using ad blockers

Wikia is not accessible if you've made further modifications. Remove the custom ad blocker rule(s) and the page will load as expected.